Fingerprint Access Control System with Reliable Hikvision DS-K1T804AMF Reader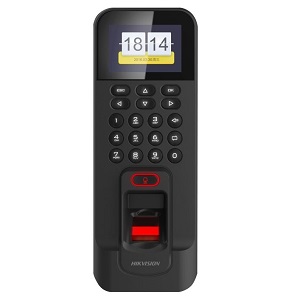 Fingerprint Access Control System with Hikvision DS-K1T804AMF reader provides many useful features and is easy to use.
The fingerprint reader supports authentication using fingerprint, card and PIN.
2.4-inch LCD screen with user-friendly interface
Supports up to 3,000 users, 3,000 fingerprints, 100,000 event records
Supports stand-alone operation
Optional software for time attendance and access control
Optional remote unlock
Optional Software for Fingerprint Access Control System
Choose the optional Hikvision's time attendance and access control software to apply door access control policies and check on door access events such as date and time door unlock, person who unlock and authentication mode that was used to unlock.
Optional Android/ IOS App for Remote Unlock
This system could be configured with optional Android/ IOS App to support remote unlocking using smartphones.
Get your 1-year on-site product warranty on fingerprint door access system installed by Assista.
Fast & accurate fingerprint verification
Nice design
Packed with powerful features
Well-priced
Well-supported by Experienced Security Professional with over 15 years of experience
PC/ Laptop software only runs on Windows. Does not work on Mac.